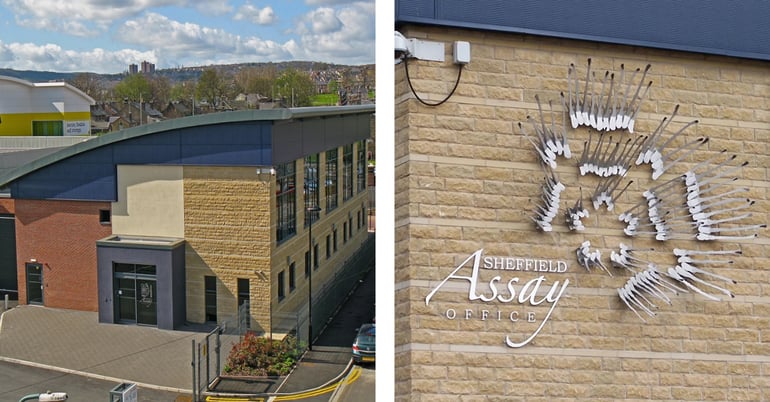 Source: hpconstruction.co.uk / jewelleryfocus.co.uk
Dr. Belen Morales, Head of Analytical Services talked with LECO about how the Sheffield Assay Office serves its customers, the technologies and types of analysis employed to meet the clients' requirements, the scope of treated sample range, and the role LECO is playing in this context.

Belen has over 18 years of experience in testing and validation of a large range of materials. Before joining Sheffield Assay Office, Belen worked in a metal manufacturing company based in the North of England for 12 years where she progressed her career from testing to a Senior Manager in Business Development.
Currently, Belen combines technical and commercial expertise to provide an outstanding level of service to her many clients in the precious and non-precious metals sector with a broad range of other material industries from 3D printing to medical device manufacturers.
LECO: So first of all, thank you very much for the possibility to do this interview. Maybe you can just tell a few words about Sheffield Assay Office.

Sheffield Assay Office is around 250 years old, and all started when the 1772 Act of Parliament appointed 30 local men as 'Guardians of the Standard of Wrought Plate in the Town of Sheffield' to supervise the work of the office and assay and hallmark silver. The first customer registered with the Sheffield Assay Office on the 11th of September 1772 and the first articles were hallmarked on the 20th of the same month. Thanks to this hallmarking we started to develop a specific analytical services lab to analyse metals – mainly precious metals in the beginning.
In more than two centuries of history, The Sheffield Assay Office has proudly maintained a position of independence and integrity. Today, a reputation for innovation too provides a compelling reason for business and industry across the spectrum to use the services in delivering consumer protection. We analyse nearly any element from the periodic table in more or less any matrix. We analyse medical devices, gold bars, automotive and aerospace components, jewelry, toys, etc.
The analytical services division is superbly equipped with leading-edge technology and staffed by highly qualified personnel. Our team consists of around 20 laboratory staff.


OK, that means you have a really broad setup because of all the different analysis requirements needed from your customers. Can you say anything about the technologies or types of analysis you use in your lab?
It's the only way we can pay for our salaries if we do everything, we have many analytical technologies in our lab. Including ICP/OES and ICP/MS. Further, we do a fine "assay", which is done with gravimetry. We also do a lot of titrations and further analysis. Also, the analysis of gases in solid samples for Oxygen, Nitrogen, and Hydrogen along with Carbon and Sulphur Content in several matrixes is carried out using the LECO ONH836 and CS744.
The LECO analysers are used for testing many metals. We analyse lots of steels, titanium and other powders that are used for 3D printing in medical parts and aerospace. We need to determine very precise and accurate content of gases, especially for jewelry, because they have very narrow quality ranges to be passing or not passing.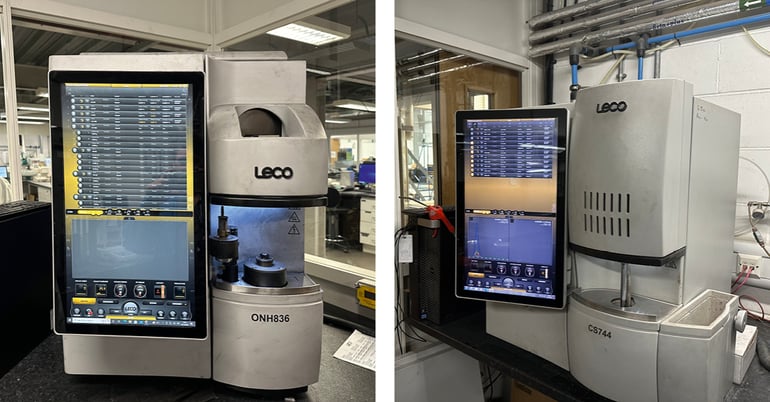 LECO ONH 836 & CS744 at Sheffield Assay Office Lab
I mean that's a lot though. You have many, many technologies in your lab. Can you give an estimate of how many samples you run in a year?

We do around 2,000 to 2,500 samples every month. This is an average of between 500 and 600 samples per week. All done in duplicate analysis. So, around 60,000 samples a year.

My question is now a little bit about the LECO instruments. So, you already mentioned that you work with a LECO ONH and a LECO CS system and especially gas analysis is very important for your samples. Can you say anything about the sample ranges?

The Oxygen ranges start at around 10 ppm and sometimes we have high contents of oxygen up to 5% and more. Nitrogen is the one that tend to be a little bit easier from the range, because there is generally nothing more than 1%.
Also, there are now many applications from the development of new batteries. We are seeing more and more testing requests for Lithium and silicon-based batteries. In this application we need to determine Carbon and Oxygen at around 20%.

Do you generally use special sample preparation for running carbon, Sulphur, oxygen, hydrogen, nitrogen samples, or just take it as it is?

We test samples as receive, except when the customer asks for special treatment. E. g. some customers give us a consent to clean the surface of the sample before testing. Then we clean it with etching.
Beside the analytical performance of the LECO machines, what are additional special things that are important for you?

To be honest, the most important thing for us is the data transfer to the LIMS system. We must avoid mistakes by wrong spelling or typing. We have to connect the data coming from several instruments like ICP/OES, CSONH systems and others in our electronic system.

The LECO CORNERSTONE® Software has a broad range of possibilities and we will of course be there for any questions you have. Can you say anything about the LECO machines in your laboratory and comment on their performance?

I have experience with LECO for years. To summarise is very, very simple. The reason why I bought the last machine from LECO, the Oxygen, Nitrogen, Hydrogen analyser was because in the market it's the best in terms of practicality.
The fact that I can do the multi element analysis at the same time for Oxygen, Nitrogen and Hydrogen is a really benefit for me. You do not have this in most other competitors.
Also, the aftersales service is something that is perfectly working for LECO. We have service contracts with LECO on all our instruments and are very happy with the aftersales support we get.

So last question, do you have any wishes or things to say to LECO or any expectations for future analysers, any technical thing that you would like to highlight?

No, is the answer. I don't know what would be missing. I'm going to tell you one thing. If I would move to any new site or area, LECO will be the first supplier I'd contact.


Thank you very much for this. Is it nicely talking with you again, Belen.